Core-Backbone, a significant player on the European carrier market, has provided in cooperation with partners DE-CIX and zafaco, a new setup for Bundesnetzagentur's broadband speed checker.
Through this successful project the test servers have become more accessible since 15th of July 2021. Thanks to its own autonomous system, which is connected via Core-Backbone (AS33891) and DE-CIX, it is now even easier for access networks to connect themselves to the testing infrastructure. This connection flows through many redundant 100 Gbit/s links, ensuring hereby reliable and transparent measurement results. For over 15 years our company's goal has been to connect the world and we contribute to improve user's consumption on the web. Measuring opportunity is available for all internet service providers in Germany.
Ulrich Köhler, Head of Network and IT-Operations:
"We have expanded the existing set up through dedicated router from Juniper. At the same time connectivity to our backbone has increased and the newly created links to DE-CIX Frankfurt, Hamburg, Dusseldorf and Munich have been put into operation. With our network team we continue processing of technical operations of checking broadband speed."
Our team is really passionate about working on network's optimization and providing people with our high-performance infrastructure as locally as globally. We are pleased to provide our services and support further technical development.
We share the enthusiasm of the Bundesnetzagentur President, Jochen Homann:
"Linking up the broadband speed checker directly with DE-CIX's internet exchange has been an important step. I am pleased that our joint efforts have been successful. The speed checker is now even easier for internet service providers to access. Consumers will benefit from even more reliable internet speed tests."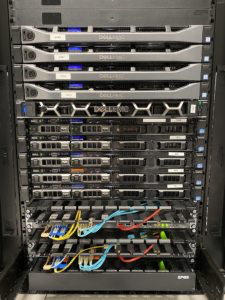 Source
Bundesnetzagentur